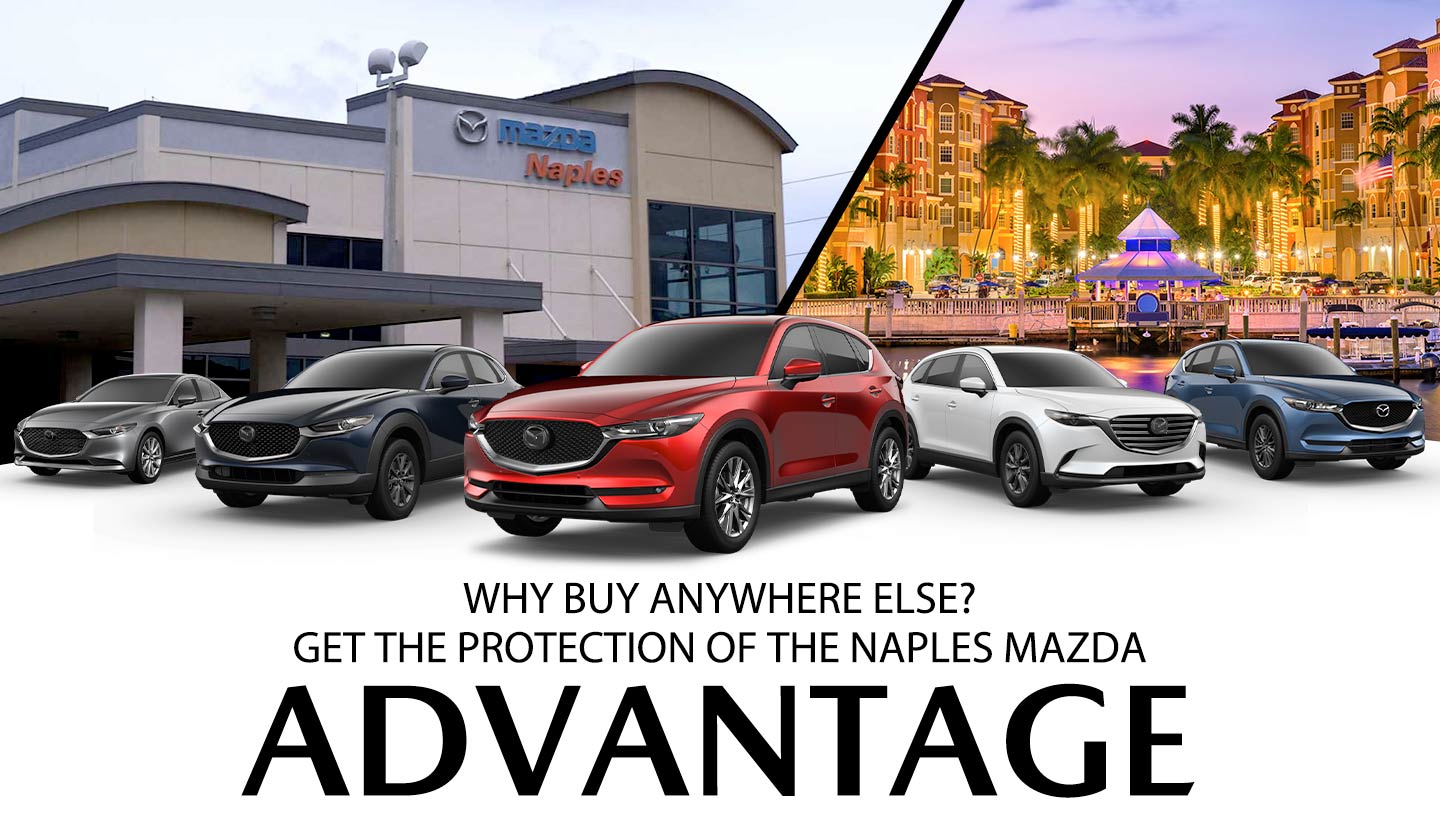 When you purchase a vehicle from Naples Mazda, we want to make sure you keep saving money long after your purchase.
That's why we provide you The Naples Mazda Advantage! A safety and appearance package that protects your investment and helps ensure your vehicle is looking as good in 3-5 years as it does today.
It's includes over $7,300 in savings that benefit you long after your initial purchase. So come get the only advantage you'll ever need - the Naples Mazda Advantage!
Naples Mazda Advantage Overview
Paint & Fabric Protection
Exterior painted surfaces have been treated to protect against UV rays and other environmental pollutants for 12 months/12,000 miles. The interior has been treated to prevent stain absorption in carpets and fabric seating surfaces. Includes two (2) free product re-applications.
Surface Sanitizer + Antimicrobial Protectant
The interior has been sanitized with an EPA-approved automotive disinfectant that kills over 99.9% of bacteria, viruses, mold and mildew. Plus, all high-touch surfaces such as the steering wheel, shifter, radio knobs, etc. have been treated with a non-toxic, anti-microbial coating. Includes one (1) free re-application of both services.
Rain Repellent
The windshield has been treated with a special rain repellent used by the U.S. Air Force which adds a hydrophobic coating that quickly repels water and provides better driving visibility in the rain. Includes five (5) free re-applications.
Headlight Protection
A special UV coating is applied to protect headlights from discoloration caused by oxidation, UV rays and humidity for 6-years or 72,000 miles on new vehicles; and 12-months or 12,000 miles on pre-owned vehicles. Includes two (2) free product re-applications.
Nitrogen Tire Service
Nitrogen inflated tires lose air 3-4 times slower than oxygen, promoting better fuel economy and reducing wear. Includes a single-use $50 credit towards tire repair or replacement during the 1st year and five (5) free nitrogen refills.
Anti-Theft Etching
The Vehicle Identification Number (VIN) has been etched on select windows as a theft deterrent and can be used by law enforcement to identify your vehicle in the event it is lost or stolen.
A/C Refresh Service
On pre-owned vehicles, the entire ventilation system has been treated for mold, mildew and bacteria that can cause offensive odors and allergic reactions. Recommended 1-2 times per year.
Door Edge & Cup Guards
Protects your vehicle's painted door edges and door cups from chips and scratches. It's made of a rugged polyurethane and then hand applied to each door to provide you long-lasting protection.
Stolen Vehicle Assistance
If your vehicle is stolen and declared a total loss, we will cover your insurance deductible up to $2,500 as a credit toward a replacement vehicle at our dealership. Included as a loyalty benefit for 3 years or 36,000 miles.
Roadside Assistance
Includes on-demand, 24/7 roadside assistance. If you have a flat tire, dead battery, are out of fuel, locked out or need a tow - help is just a phone call away. Track the arrival time live from your smartphone.
Collision Credit
Accidents happen. But in the event your initial vehicle purchase suffers a total loss due to an auto accident, we provide $2,500 towards a replacement vehicle at our dealership! Included as a loyalty benefit for the first 90 days.
Car Care Products
Included in the welcome kit are premium, travel-size car care products which help to keep your vehicle looking its best.
Visit Naples Mazda!
A value like this isn't something you'll find anywhere else. Because only we go the extra mile to give you over $7,300 in benefits. Learn more about how you can save with the Naples Mazda Advantage by filling out the form now.